The latest rumors from NFL-ville seem to be that Tarvaris Jackson is going to demand a trade if Brett Favre gets signed. Of course, not many people are talking about these rumors, because, well…. it's about Tarvaris Jackson.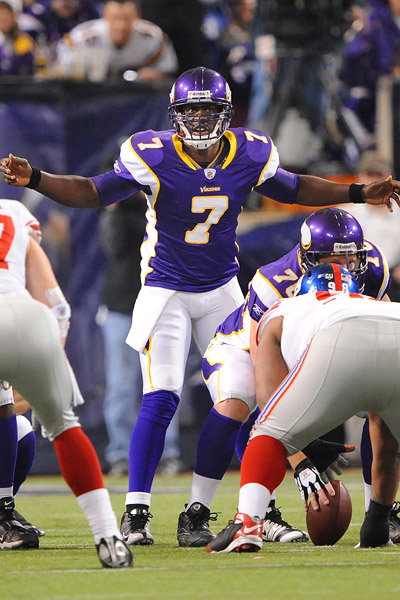 Don't get me wrong… I've been a T-Jack supporter thus far. I think two years ago he had no receivers to throw to and a coach that didn't trust him, and I think last year he got thrown under the bus by Childress so that Childress didn't have to take the blame for a slow start on himself. I was very much against the benching of Jackson, and I was NOT a fan of Gus Frerotte being the starting QB.
That being said, Tarvaris Jackson being on the trading block isn't exactly going to shake up the league. If Tarvaris demands a trade, the Vikings will get little to nothing for him, and Tarvaris will never start in the NFL again (barring injury to whatever QB he's backing up).
On the flip side, if he stays in Minnesota and sits behind Favre for a year, or more ideally, two years, he'll have a shot at at least competing for the starting job after Favre retires one or two more times.
To be honest, Tarvaris doesn't strike me as the "demand a trade" type of guy, so I'm not sure I buy into these rumors a whole lot.
As for the Vikings point of view, though… I've said it before, and I'll say it again: If the Vikings have to choose between Jackson and Rosenfels as a backup, they need to keep Jackson. I'm not saying Jackson is the surefire answer after Favre leaves the Vikings, but he's entering his fourth NFL season, and Rosenfels is entering his 9th. If the Vikings get two years out of Favre, at the end of that time, Jackson will be entering his 6th season, and Rosenfels his 11th. If the Vikes are going to keep one of the, they need to keep Jackson, just because he's at the stage of his career that sitting behind Favre could potentially help him improve. Rosenfels is probably near the peak of his game right now.